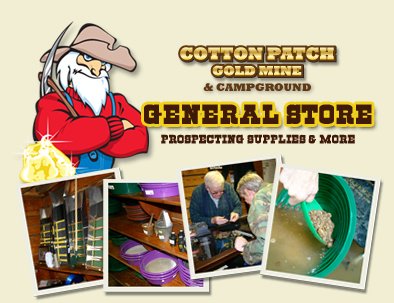 Play A Golden Game Of Solitaire
One of our favorite games here at Cotton Patch Goldmine is solitaire and we have searched low and high for the best place for you to play.

If you are a fan of online gaming, spider solitaire is a new game from SocialPlay that is great fun for all the family. You can now play solitaire on Facebook and Android, download solitaire on Google Play today!

Give it a play today and see if you can beat our best score. We promise you that you will not be disappointed!


Recreational Prospecting To Public Now Closed
Due to the cost of operations and the condition of the economy, CPGM will not be open for recreational prospecting.

All other operations including RV sites, tent camping and cabin rentals will operate normally during our season. Call for availability and reservations.

Special groups (family reunions, festivals, etc.) and GPAA chapters will be welcome for planned outings. Call for information.

The General Store is well stocked and will be open for business, call ahead for hours of operations.

Professional consultation will still be available, call for appointment.

Mining seminars will be scheduled throughout the season, keep up with our calendar for dates and activities.

DVD now Available!
Got buckets of black sands setting around. Learn from expert Jeff Pickett on how to get the Gold out safely and efficiently. Jeff walks you through each step, explaining each process and how important it is to avoid the use of Mercury. This amazing 1 hour 27 minutes DVD is perfect for any recreational prospector anywhere.

Our GPS Coordinates:
Come camp out, walking beautiful trails, and meeting friendly people. We also now have WI-FI so you can stay in touch 24-7.
Need supplies...we provide all the equipment necessary. If you are looking to purchase your very own prospecting supplies... check out our General Store, located on the mine. We sell a huge variety of prospecting equipment... from Keene, Fisher, Garrett and Gold Magic.
Cotton Patch Gold Mine is now an Official GPAA (Gold Prospectors Association of American) Member. Show membership card for 10% discount on mining supplies.